Aerosystems Manufacturing
Expert Aerosystem Design, Prototyping, and Production
Aurora provides consistent and reliable components, sub-assemblies, and airframes using the latest technologies in composite materials and robotic manufacturing in AS9100 third party certified facilities. We work with our customers to:
Cutting-Edge Manufacturing Technology
Aurora's advanced capabilities in manufacturing automation and robotics reduce production costs while ensuring quality, performance, and safety. We optimize the use of robots through robot system simulation, and we expertly deploy robotics and other technologies across our manufacturing facilities.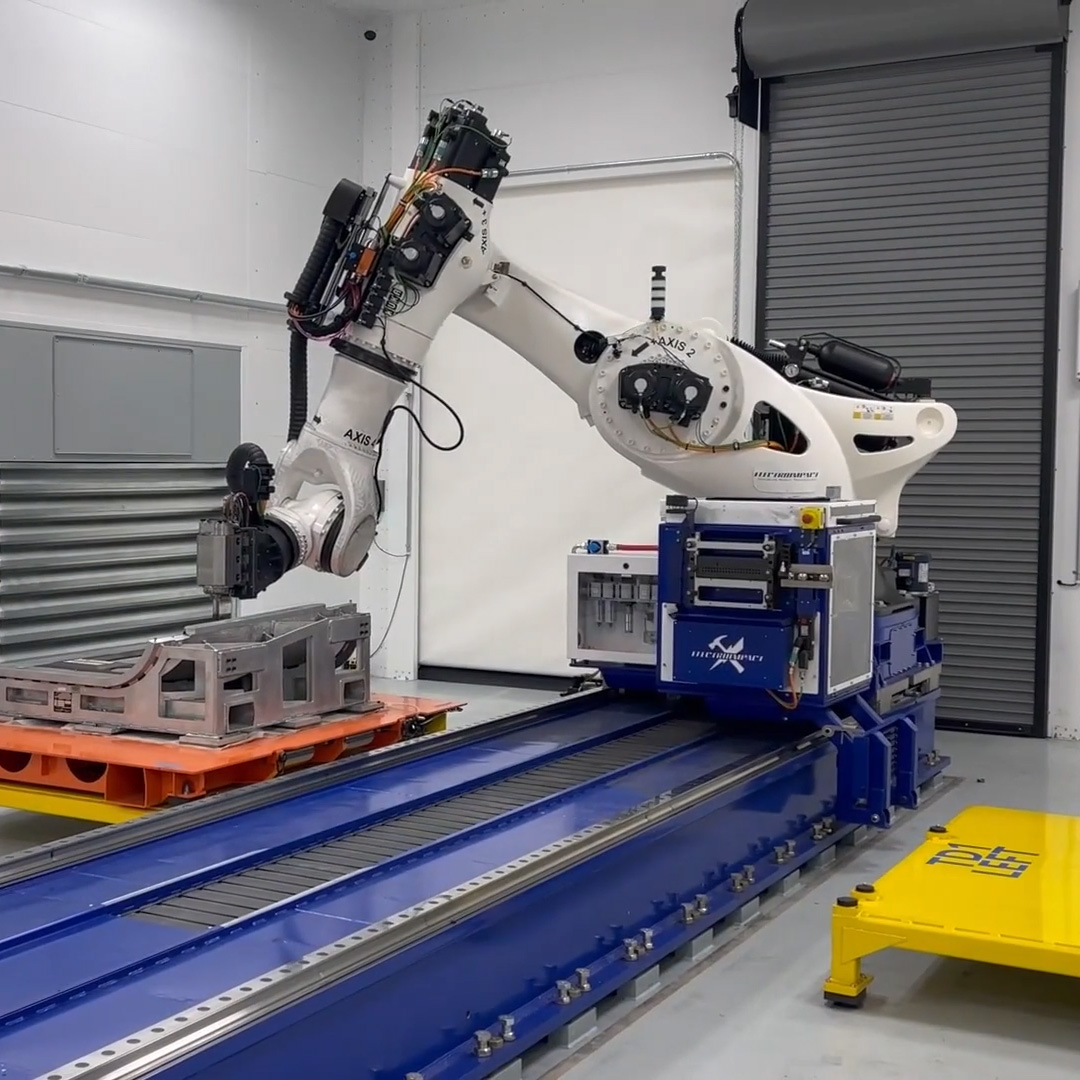 Flexible Robotic Composite Manufacturing Cell (FRCMC)
Aurora's robotic composite manufacturing cell supports a wide range of manufacturing processes and meets all customer quality requirements at significantly reduced costs for mixed low to medium rate production programs using pulsed non-linear assembly line production flow.
Capabilities:
8-axis robotic part machining​​

Automated part transportation​​

7-axis robotic part dimensional inspection coupled with industry standard laser tracker

Integrated process control using Aurora's Production Utilization Planner (PUP) software which simulates, schedules, monitors, and learns FRCMC operations ​
Additional Manufacturing Technologies
Through several key technologies, Aurora can meet customer requirements for both rapid prototype and production-scale manufacturing of aerospace-grade components and sub-assemblies.
Automated Fiber Placement (AFP) of carbon, pitch and Boron fiber with epoxy and cyanate-based resin systems

Autoclave and non-autoclave curing

Automated in-situ metrology for machining and AFP processes

Composite hot drape forming​

Ultrasonic non-destructive inspection​

Fused Deposition Modeling (FDM) 3D printing

In-process AFP automated ply inspection

CNC 5-axis machining (composites, titanium and super alloy metals​)

Mechanical testing for material property allowables generation and joint/component testing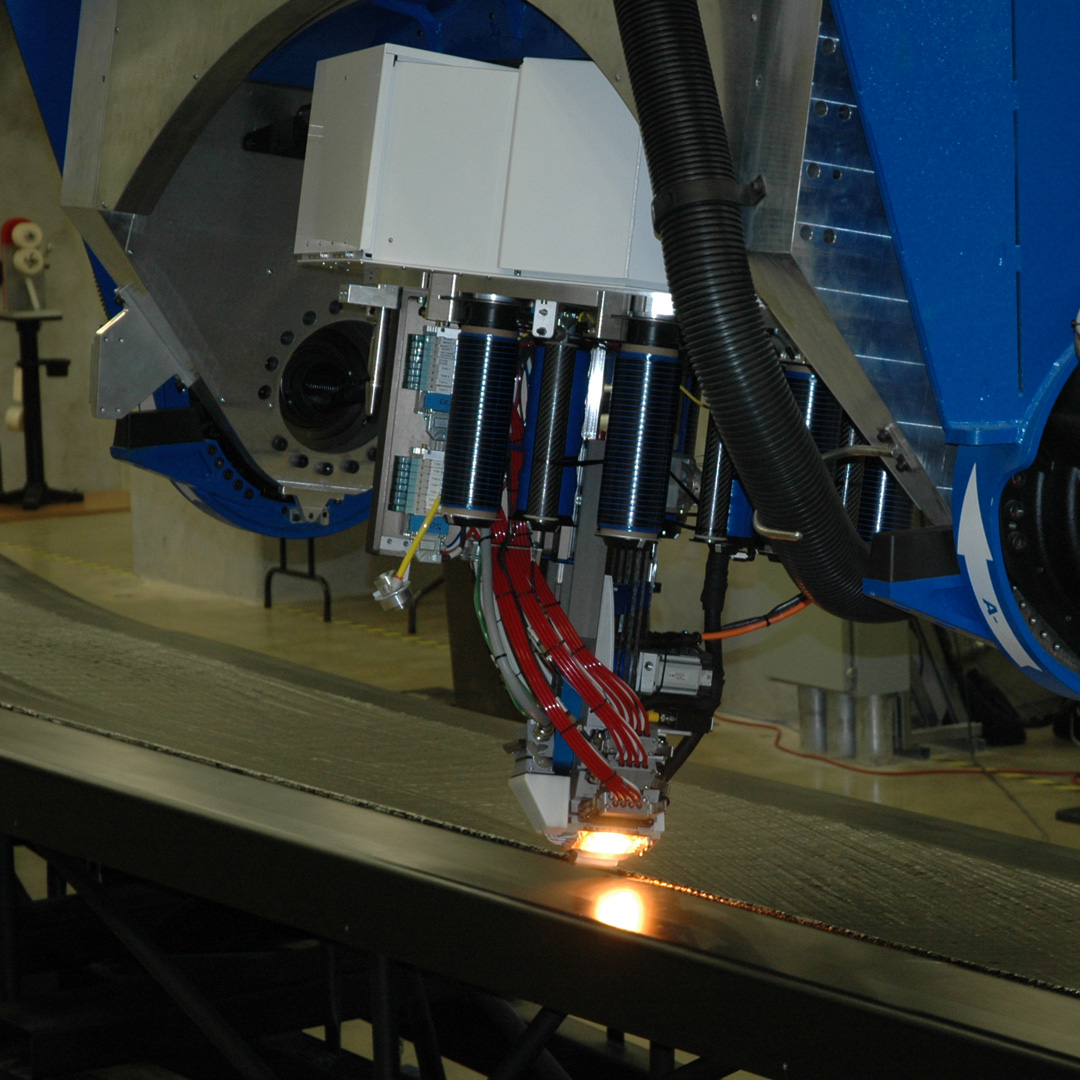 Full-Service Product Development & Production
Aurora specializes in complex design, build-to-print, rapid prototyping, and production of air vehicles, components, and sub-assemblies. We can provide full lifecycle support from concept to prototyping, testing, and production. In addition, we can develop new materials and manufacturing processes that improve performance and quality and reduce costs for your existing products. Our core competencies include:

Air Vehicles
Wings and Lifting Surfaces
Fairings, Pylons and Radomes

Doors and Reinforced Structures
Aerosystems Client Programs
Aurora is a trusted provider of high value aerosystems to leading manufacturers across the aerospace, defense, and civil aviation markets. Here are a few of the programs we are proud to deliver for our customers:
Facility: Bridgeport, West Virginia and Columbus, Mississippi
Components: Composite parts
Program: Design and build
Northrop Grumman Global Hawk and Triton
Facility: Bridgeport, West Virginia
Components: Aft Fuselage, Nacelle and V-Tail Assembly
Program: Build-to-print
Facility: Bridgeport, West Virginia
Components: Nacelles, Main Rotor Pylon
Program: Build-to-print, design and build
Facility: Columbus, Mississippi
Components: Upper Clam Shell/Slider Door, Lower Door
Program: Build-to-print
Facility: Columbus, Mississippi
Components: Horizontal Tail
Program: Build-to-print
Sikorsky MH-60-R Sonobuoy
Facility: Columbus, Mississippi
Components: Launcher Assembly
Program: Build-to-print