Boeing's KC-46A Pegasus and MQ-25™ Stingray™ technology continues to evolve in Mississippi's nexus of innovation
As the joint force continues to push the mission envelope for increased global reach and survivability of its mobility platforms, Boeing and Aurora Flight Sciences—a Boeing company known for novel aircraft configurations, systems and technologies—have been applying their mutual resources and expertise to continue evolving next-generation aerial refueling mission capabilities.
Boeing's KC-46A Pegasus and MQ-25™ Stingray™ are already redefining the aerial refueling mission with unprecedented technological capabilities, as well as production and mission systems that continue evolving to deliver current and future mobility mission needs ahead of peer threats.
Aurora Mississippi's team creates the MQ-25™ Stingray™ skins using advanced manufacturing processes that improve mission capabilities for the joint force.
Boeing and Aurora are investing to further advance innovative mission solutions for these and future mobility platforms.
Manufacturing the future at Aurora Mississippi
Aurora's facility in Columbus, Mississippi exemplifies how Boeing and Aurora are driving the future of these next-generation aerial refueling systems with cutting-edge design and manufacturing expertise.
Located in Columbus– only 15 miles east of Mississippi State University in Starkville – Aurora Mississippi manufactures composite skins for the MQ-25 Stingray.
"The MQ-25 composite skins are lightweight, resilient, strong and tailor-designed to perform their function to perfection," production engineering manager Jake Waldrep said. The lightweight strengthening and anti-corrosive benefits of skins are ideal for the carrier-based refueling aircraft, allowing it to efficiently extend both its missions and its lifecycle.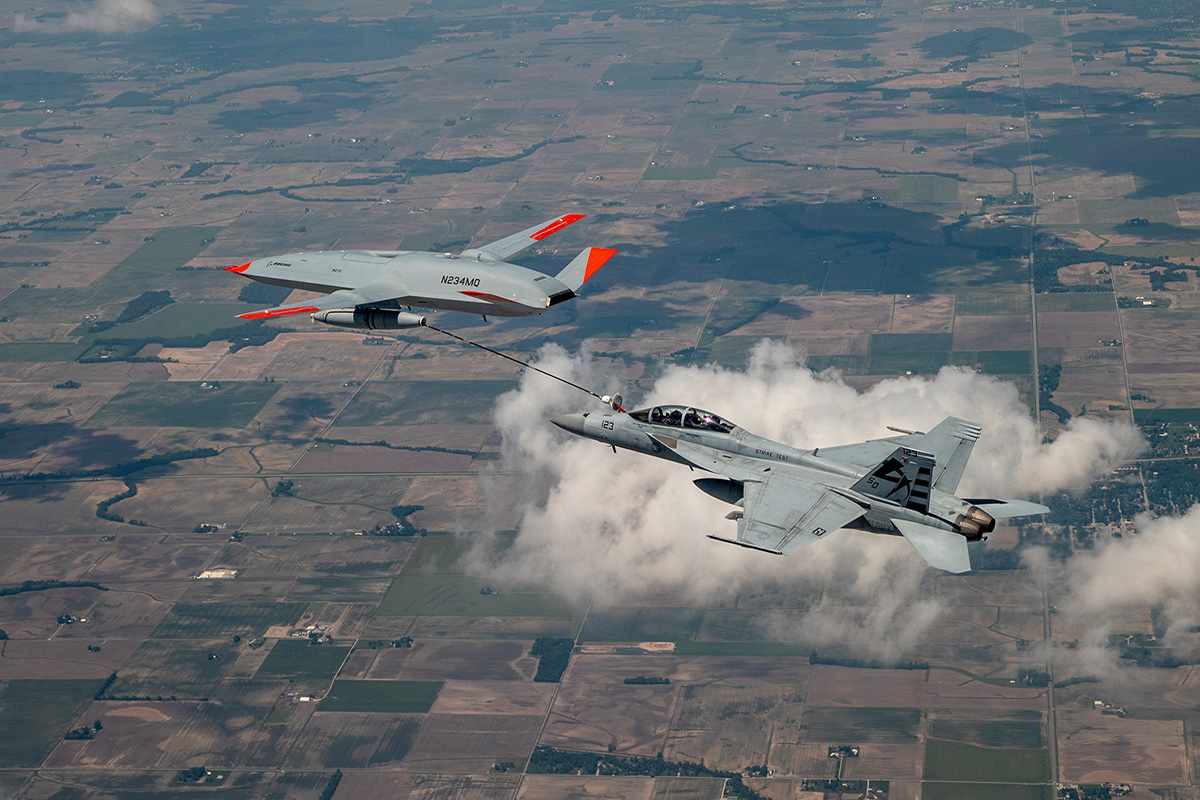 The MQ-25™ Stringray™ is the world's first autonomous aerial refueler, with aerodynamic design, open mission software systems and seamless carrier deck integration to further extend the range of the aerial refueling mission. (Boeing photo)
Developing and delivering advanced capabilities that benefit service members means a great deal to Aurora's Columbus-based employees, including U.S. Army veteran Jackson Walters.
"What we're doing here is improving the life and the mission set of the women and men who are up front," said Walters, who works as a quality inspector.
Innovating to further enhance survivability
Boeing and Aurora recently announced further investment focused on developing advanced defensive systems and countermeasures for application on next-generation refueling and mobility platforms, including the KC-46A Pegasus.
"The KC-46A already features defensive systems that are unprecedented in a tanker," said Justin Hatcher, advanced technology director for Boeing's KC-46 Program. "We continue to evolve the KC-46A and other next-generation refueling and mobility platforms to further enhance mission versatility and survivability for joint force mission advantage far into the future."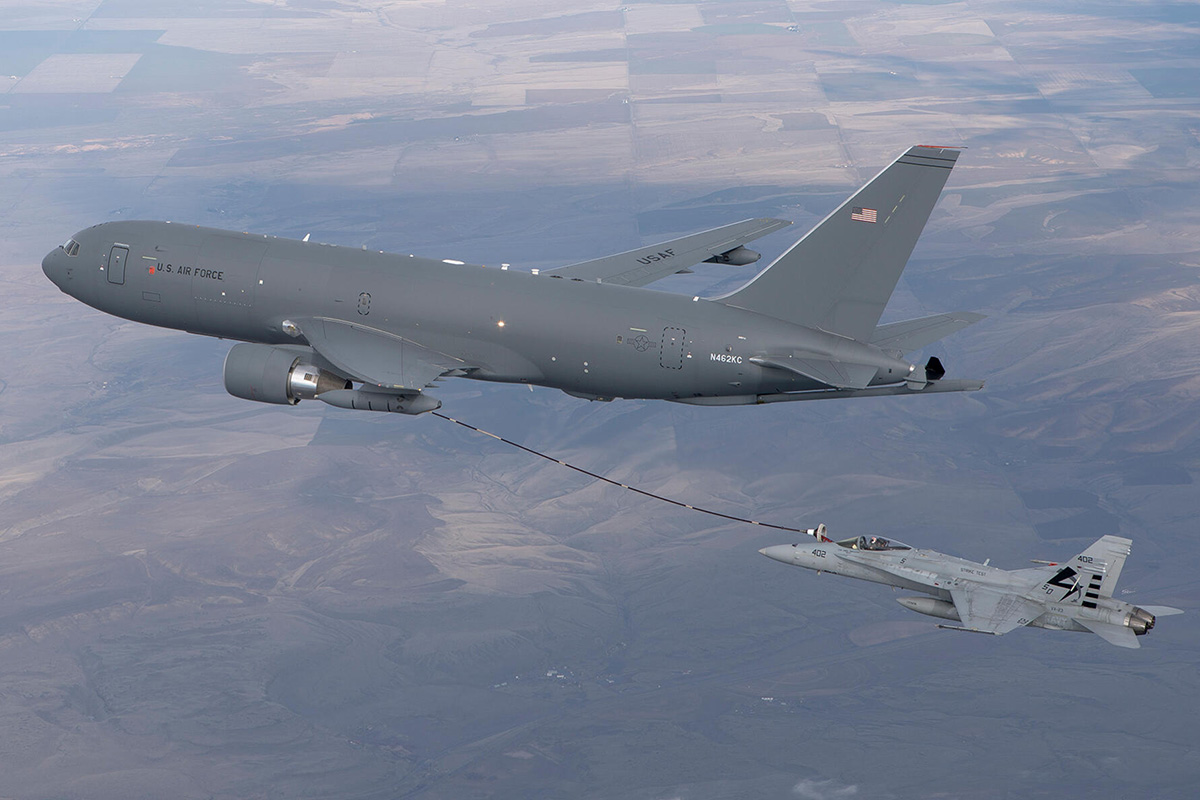 The combat-proven KC-46A is the world's most advanced multi-mission aerial refueler, delivering fuel and data to the fleet, as well as cargo, personnel and aeromedical transportation capabilities for rapid global mobility. (John Parker/Boeing photo)
Aurora is leading the initial research and conceptual design of composite components to enhance operational survivability for aerial refueling and mobility missions. This work will also focus on producibility and manufacturing at Aurora Mississippi.
Fostering Mississippi's nexus of aerospace innovation
"I think it really changes the perspective of what people think of Mississippi," said composite technician Theodoric James – now in his 14th year with the company – on the industry-leading work being done at Aurora Mississippi.
"To be able to support the advanced technology that we're doing here at Aurora is something I never thought I'd get to be a part of," said production control manager Amanda Tucker, who grew up on a cotton farm about 30 miles north.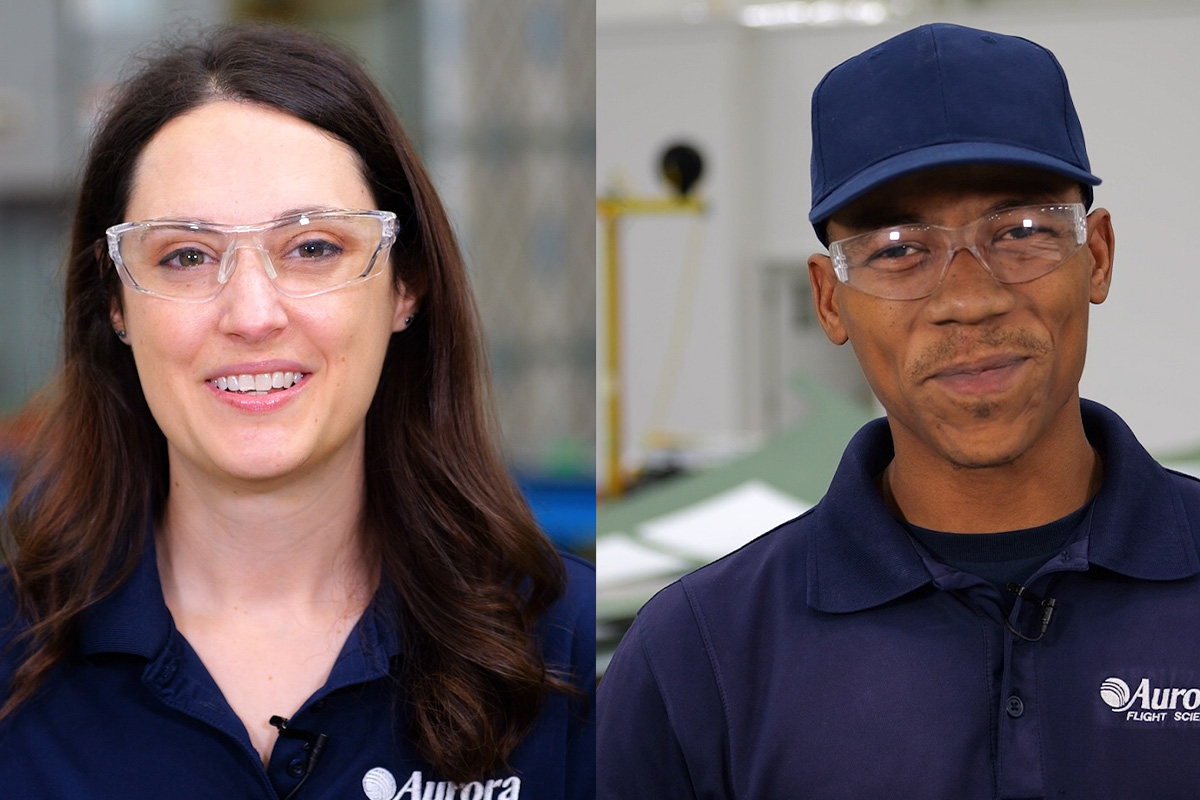 Production control manager Amanda Tucker and composite technician Theodoric James attended Mississippi State University and East Mississippi Community College, respectively. Aurora Mississippi has partnered with both schools to strengthen advanced manufacturing research, higher education and workforce development in the region.
Aurora is a key partner in Mississippi's nexus of composites and advanced manufacturing research, higher education and workforce development. This group includes Mississippi State University – with its MSU Advanced Composites Institute – and East Mississippi Community College's satellite campus, The Communiversity, which serves as the hub for the college's workforce programs and primary location for training in fields related to advanced manufacturing.
Aurora leverages both MSU and EMCC—alma maters to Tucker and James, respectively—for recruitment and employee training. Aurora also contributes to EMCC's composite training course and Camp AMP, a summer K-12 STEM camp.
These connections make the Aurora Mississippi facility primed for growth to support future work, according to Luke Colville, Aurora's vice president of manufacturing and aerosystems.
"With our research and development expertise, the composites production talent at Aurora Mississippi and our collaboration with Boeing," Colville explained, "we're building the future of next-generation refueling and mobility capabilities and growing the team to deliver them."
PRESS RELEASE: Boeing invests in KC-46A enhanced defensive capabilities